"WHO IS EXEMPT FROM WORKERS COMPENSATION?"
Upcoming Live Webinar on Lorman.com
for All Workers' Compensation Personnel
November 21, 2019   1:00 p.m. to 2:30 p.m. Eastern
Save This Date and Time on Your Calendar Now!
Click Here to Order Your Tickets Today and Get 50 Percent Off!
Offered by
Weston S. Montrose, Esq., of the Arizona Injury Law Group
Arizona State Bar Certified Specialist in Workers' Compensation
Weston S. Montrose, Esq. of the Arizona Injury Law Group in Phoenix, Arizona, is presenting an important live webinar on understanding who is eligible, or not eligible, for workers' compensation benefits. Find out the important differences between contract workers and the test that is applied to determine whether contract workers are, in fact, employees. The rules are changing in some states. Is yours one of them?
When Accidents Happen on the Job
What happens when an employee has an accident? Each case is unique to the accident and to the worker who was injured during the accident, or when they became ill. A big issue is whether they were at the workplace or if offsite, conducting company business. Find out where there are exceptions to the right to receive benefits.
Such a situation is not always clear cut at first glance, and not every state has the same method of determining who gets benefits. Sometimes it boils down to a matter of timing of when an event happened, as to whether the accident or illness occurred while still on the job, or if an employee had already done the job, such as making a product delivery, and the employee was now headed home or to the grocery store.
Upgrade Your Knowledge and Understanding of Related Common Issues
Here is the important information you will understand more clearly after attending this webinar:
Understanding what the "grand bargain" means between workers and employers under the workers' compensation system, and where there are exceptions to the bargain;
Who is not classified as an employee in your state;
Know how to assess the difference between the exemption or a defense to any workers' compensation injury claim, and properly explain it to those who need to know;
Evaluating correctly the events of an accident and the "coming-and-going" rule;
Can ask the right questions that give you the details to give an insight of a defense or exemption of right to workers' compensation benefits, and much more.
Certifications Available for Purchase
Getting our degrees to practice law also means a commitment to continued education on those important laws and regulations that govern how cases can be won with greater expertise. When you attend this live webinar on a very important subject, you can choose the credits which show you are continuing to train and learn the latest in the laws applied to workers' compensation.
Here is the list of available credits for this live webinar:
CLE
CPE
SHRM
NASBA, and
HIR Certification Institute.
Check on the Lorman website here for the expanded view of credits offered by Lorman.com.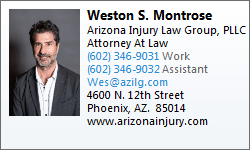 About Weston S. Montrose, Esq.
Weston S. Montrose, Esq., a former Staff Attorney for the Industrial Commission of Arizona, is a Workers' Compensation Certified Specialist by the State Bar of Arizona and is admitted to practice in Arizona, California, federal court, and the United States Supreme Court. Montrose delivered a winning oral argument to the Arizona Court of Appeals in a landmark international workers' compensation case that was petitioned to the United States Supreme Court.
As a managing member of the Arizona Injury Law Group, LLC., Montrose covers all areas of Arizona workers' compensation, representing both injured workers and Arizona employers. He often is the lead counsel in many bench trials, jury trials, arbitrations, and mediations.
Montrose is a former presenter and co-chair for the State Bar of Arizona's continuing legal education events and continues to speak at private continuing legal education seminars and, now, adds on live webinars to his teaching offerings. Montrose received his Doctor of Jurisprudence degree from Pepperdine University and his Bachelor of Science degree in business administration from the University of Arizona.
Get Your Tickets Here to Attend This Informative Live Webinar
Register Now and You Can Get the Early Bird Savings of 50 Percent!
Or
Copy and Paste This Link Below to Reserve Your Seat and Get Your Discount!
http://www.lorman.com/406600?discount_code=G7078291&p=13389