PHOENIX PERSONAL INJURY ATTORNEY
Suffering through an injury or loss in Phoenix, AZ can require so much of your physical, mental, and emotional capacity. However, your energy should be able to remain focused on recovering and getting your life back to where it was. When you are facing injuries or loss as the result of someone else's negligence, your recovery time is often unfortunately placed under additional strain as you attempt to seek rightful compensation for your injuries.
For this reason, if you are experiencing loss or injury on account of another party's fault, it is imperative that you seek the experience of a knowledgeable and skilled Phoenix personal injury lawyer. The right attorney can assess the details of your case, gather the required evidence and documentation, and pursue every necessary avenue to secure full recovery compensation for any of your damages.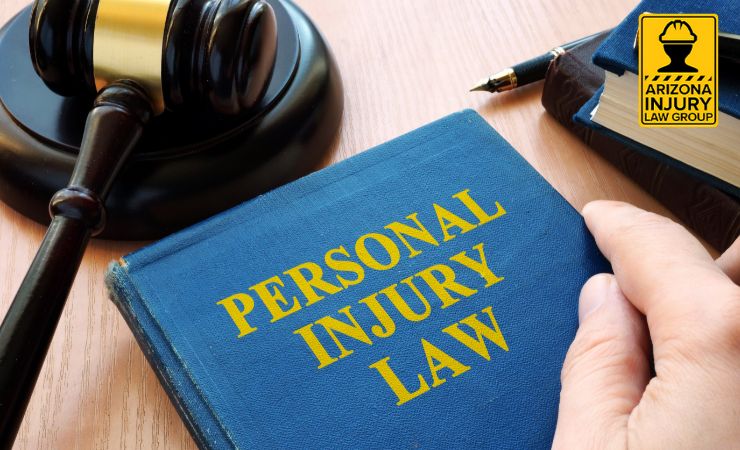 Table of Contents:
Arizona Injury Law Group: Your Personal Injury Attorneys in Phoenix
Handling a personal injury claim can be a complex and arduous process. Without the necessary understanding of Arizona personal injury law or the skills to successfully argue your case, it is possible to lose the opportunity to recover any or all of the compensation that is otherwise rightfully yours. By partnering with an experienced Arizona personal injury lawyer, you give yourself the most effective chance to achieve the greatest possible outcome in your case.
The attorneys at Arizona Injury Law Group provide their clients with guidance throughout their cases, educating them on what to expect every step of the way. Our lawyers believe in educating their clients and offering direct access so that you never find yourself communicating through an assistant. Reach out today, and let us discuss your unique case with you and begin the process of fully recovering what is owed to you.
What Is a Personal Injury Claim?
When an individual makes a formal legal request for compensation from another party for injuries or losses suffered, they are filing a personal injury claim against that party. In doing so, they are legally alleging that the offending party in some way caused or was responsible for the injury or loss and is, therefore, required by law to provide restitution.
There are many types of personal injury cases filed in Phoenix and throughout Arizona. These are just some of the most commonly filed in Phoenix:
Car accident injuries
Motorcycle accidents
Slip-and-fall accidents
Medical malpractice
Dog bites
If you've suffered any one of these, or another personal injury or loss due to someone else's negligence, partner with your injury attorney to discuss your options for recovering the appropriate damages.
What Does Personal Injury Compensation Cover?
Your personal injury claim will seek to recover damages for any personal injuries and economic losses suffered on account of another party's wrongful or negligent act. Depending on the specific details of your case, this may include:
Physical, emotional, and/or mental injury. This is the most common type of damage claim made in a personal injury case. When someone who owes you a duty of care commits a wrongful or negligent act, the result is often injury. Personal injury law recognizes emotional and mental injury, such as distress, equally alongside physical injury.
Property damage. Recovering compensation for property damage also falls under personal injury law. If someone else's wrongful act or negligence led to any kind of damage to your personal property, such as a vehicle or home, you are entitled to receive compensation to recover repair or replacement costs for the value of the damaged property.
Lost wages. When an injury leads to time off work during recovery, you can seek reimbursement for any real or potential lost income. Additionally, if your injury results in a short-term, long-term, or permanent disability that affects your ability to earn the same standard of living, you may be eligible for compensation covering your reduced earning capacity.
Medical bills. Compensation for medical bills covers the costs of care in treating all injuries caused by the wrongful act or negligence of the defendant. This includes initial costs, such as hospital visits and surgeries, as well as follow-up care, such as physical therapy and subsequent tests or surgeries. Lastly, you are also entitled to compensation for long-term care if the injury is a serious or permanent injury, such as the loss of a limb.
Pain and suffering. It is common for personal injury claims to include compensation for pain and suffering. This amount is intended to address the overall physical and emotional distress caused by the incident itself and the ensuing recovery process. Suffering a personal injury or economic loss is a difficult burden that is particularly compounded in cases where it is being suffered through no fault of the victim.
In many cases, additional personal injury compensation may be imposed, such as:
Punitive damages meant to discourage further negligence in this area
Reimbursement for any legal fees and expenses incurred during the claims process
The particular allotments and amounts applicable to your situation will depend on the specific details of your case.
Working with your injury attorney can provide you with the clearest idea of what you can expect. Much of what you are able to legally recover will be determined by the extent to which you are able to prove the other party's alleged fault in your case.
How Do You Prove Fault in a Personal Injury Case?
In personal injury cases, compensation is only awarded to the injured party if fault by another party can be sufficiently established and proven. To prove fault for a personal injury, the following must first be demonstrated:
A duty of care. This is the legal obligation of a party to act toward another party in an attentive manner, exercising a reasonable level of caution and prudence, to prevent harm from coming to that party or others either through one's action or failure to act. For personal injury cases, you must first demonstrate that the offending party owed you a duty of care.
A breach of the duty of care. When any party has violated their responsibility towards others by causing or allowing harm through direct action or by a failure to act, they have breached their legal duty of care towards that party. In establishing fault, you must further provide evidence that the duty of care afforded to you was in some way breached.
A personal injury resulting from the breach of duty of care. For a personal injury claim to be successful, a personal injury or loss of some kind must have taken place, and that injury or loss must have been directly caused by an action or inaction on the part of the offending party that breached their duty of care.After successfully demonstrating that the other party owed you a duty of care and that they breached that duty, you will need to provide sufficient evidence demonstrating that a personal injury was incurred as a direct result of their breach of duty.
Once you have properly established all these parameters, then negotiations to agree on a settlement can begin. Your personal injury attorney can walk you through the steps to establish each point, gathering the proper evidence needed to substantiate each claim.
Why Hire a Personal Injury Lawyer to Handle My Case?
Filing a personal injury claim is often a complex and tedious process that requires completing the appropriate documentation by specific deadlines. The court system imposes hearing requests and deadlines, and it expects full compliance with all applicable laws, whether you are representing yourself or receiving professional aid in filing. For this reason, it is to your greatest advantage to utilize the knowledge and experience of a qualified and skilled attorney who is well-versed in all the various requirements, laws, and procedures involved.
In addition to their understanding of the legal process, your injury attorney has the skills to provide the following benefits:
Proving fault. Your injury lawyer has the strongest grasp on what it will take to prove liability in your case. They are adept at proper investigation techniques, evidence gathering, witness testimony interviews, and other effective steps to establishing fault in a given case.
Valuing your damages. It is difficult on your own to know how much your claim is worth. Knowing that you deserve compensation is quite different from knowing how much to fight for. Insurance companies are under incentive to offer you the lowest amounts. Given their experience in handling similar cases, your attorney already knows how to properly value your claim, calculating every aspect appropriately as they factor in economic and non-economic losses.
Handling negotiations and claims. Dealing with insurance companies, workers' compensation hearings, and other third parties involved in fulfilling recovery compensation requires skill and determination in negotiation techniques. Equally, if your case goes to trial, your attorney can bring their skills and tenacity to the courtroom to effectively fight on your behalf for a fair and full settlement.
Hiring a qualified and skilled personal injury lawyer to guide you through all the steps of filing a personal injury claim, gathering and preparing all necessary documentation, and protecting your rights throughout your case is the most important step you can take to ensure the most favorable outcome in your settlement.
FAQs About Phoenix, AZ Personal Injury Laws
What Is the Statute of Limitations for Personal Injury in Arizona?
The statute of limitations for personal injury in Arizona is two years. In most cases, the clock begins ticking the moment you discover or would have discovered had you been acting with reasonable diligence, that you suffered an injury or that another party has acted with negligence. There are some exceptions to this timeframe, especially if the injury isn't immediately observable. As the details of your case will determine the exact timeframe, consult an attorney for further details.
What Is the Average Personal Injury Settlement in Arizona?
Personal injury settlements in Arizona can vary widely, generally ranging from $5,000 up to $80,000. Many individual cases will even warrant much higher settlements. The most common type of personal injury claim in Arizona is for injuries sustained in an auto accident. There are many other types of claims, however, for which you can also pursue a settlement to recover damages. The average settlement amount, for example, for worker's compensation in Arizona is just over $20,000.
What Is the Personal Injury Law in the United States?
The United States classifies personal injury law, also known as tort law, as the set of rules governing legal action that can be taken by one party against another to recover damages. Personal injury law is intended to offer protection for individuals against injury, harm, or economic loss that results from the negligent action or inaction of another party. In successful cases, the negligent or at-fault party is financially responsible for all damages and must provide due compensation.
What Is a Success Fee in Personal Injury Cases?
In personal injury cases, a success fee is the compensation amount paid to your lawyer for their services, paid out only in the event the case is successful. Known as a conditional fee agreement, or CFA, this pay structure contrasts with paying an hourly rate for attorney services. The amount is a portion of the total compensation for the personal injury claim. CFA laws cap personal injury success fees at no more than 25% of your settlement. It is important to discuss your attorney's fee structure during your initial consultation. That way, you can ensure that you can afford their services throughout your case.
Working With Your Phoenix Personal Injury Attorney
When you've suffered a personal injury, it is essential that you allow yourself the necessary time and energy to recover. Letting a skilled attorney handle your case affords you the opportunity for your case to be fully handled. This allows you to save yourself from any additional stress and concern than what your case has already caused you. Contact a member of our team today, and let the attorneys at Arizona Injury Law Group take care of you and your claim so you can focus on getting your life back.