TUCSON WORKERS' COMPENSATION ATTORNEY
Arizona law requires most employers to purchase workers' compensation insurance. This insurance serves two purposes. First, it prevents employers from facing civil liability for their injured workers' damages in most cases. This allows them to continue their operations with confidence. Second, it provides benefits to injured workers to compensate them for their injuries, providing medical expense coverage and temporary disability benefits that help them recover.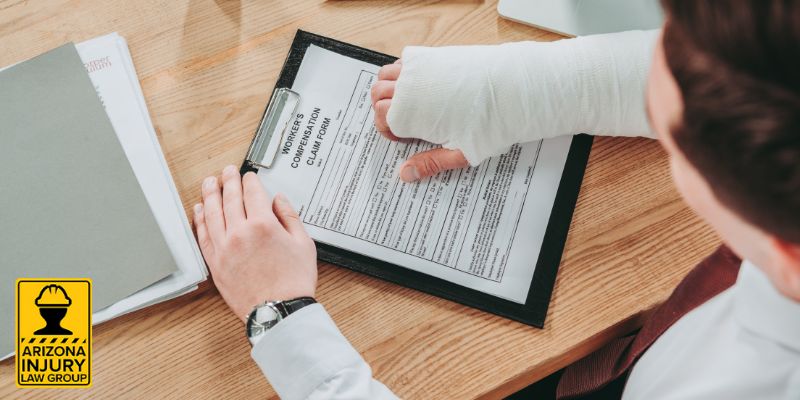 Experienced Legal Representation for Workers' Compensation Claims in Tucson, AZ
If you are injured while working in Tucson, it is essential to know what to expect from the workers' compensation system and the value of having legal counsel you can trust to guide you through the claim-filing process. The Arizona Injury Law Group is a seasoned team of Tucson workers' compensation attorneys with the skills and resources you want on your side as you pursue benefits for the workplace injury you recently suffered. Our firm has successfully represented many injured workers in the Tucson area, and we are ready to put this experience to work for you.
Common Types of Workplace Injuries in Tucson
It's possible for anyone to sustain an unexpected injury at work, even in a seemingly safe work environment like an office building. Workplace injuries are more common in construction and other manual labor-focused work environments, but it is important for all workers in Tucson to know that if their injury happened while they were performing their job duties, they are likely eligible to file a claim for workers' compensation benefits through their employer. Some of the most commonly cited work-related injuries in Tucson are:
According to the Occupational Safety and Health Administration (OSHA), falls not only account for most of the workplace injuries reported each year but also the majority of missed days of work and workplace fatalities. Falls can potentially cause broken bones, traumatic brain damage, and more.
Vehicle-related injuries. Whether an employee must drive as their primary job duty or use specialized work vehicles, any type of vehicle accident has the potential to cause tremendous harm. It's important to note that if you are driving for work and you are hit by a third party, it's possible to file a workers' compensation claim through your employer and then file a third-party injury claim against the at-fault driver.
Repetitive stress injuries. Not all work-related injuries happen from acute traumatic accidents. Some are acquired over time, especially when a worker must perform the same manual tasks each day at work. Strains, sprains, and soft tissue damage are a few examples of repetitive stress injuries that might qualify for workers' compensation benefits, but the injured worker must be prepared to prove that their injury directly resulted from their work duties.
Acquired illnesses. Some people must work with or near hazardous materials or endure hazardous work environments, some of which can cause health conditions to manifest over time. If you acquired a severe illness through your work, you could file a claim for workers' compensation benefits just as you could for a physical injury.
These are just a few examples of the types of injuries reported among workers in all industries in Tucson. The main determining factor as to whether you could claim workers' compensation benefits for an injury is if the injury occurred while you were working. If you were working and performing your job duties when the injury occurred, you are likely covered by your employer's workers' compensation insurance.
How to File Your Workers' Compensation Claim in Tucson
The first steps you take after a workplace injury are crucial. Filing a claim for workers' compensation benefits is similar to how one would file any other type of insurance claim. However, the claimant faces an additional complication in the form of their employer's role in the process. While most employers in Tucson adhere to the state's workers' compensation laws in good faith, some unfortunately do not.
Seek Medical Attention Right Away
After any type of injury at work, the victim must seek medical attention as soon as possible after their injury and report the incident to their supervisor. The employer is required to create a formal incident report detailing how, when, and why the injury occurred, and the employee may need to refer to this incident report later in their recovery efforts. The employer is prohibited from interfering with the workers' compensation claim filing process in any way. They may not try to discourage the employee from filing their claim, nor are they allowed to fire an employee for filing their workers' compensation claim. If an employer retaliates against an injured worker illegally, they can face severe consequences.
Once the injured worker has reported their injury, their employer must provide them with the forms they need to submit to the insurance company. The injured employee must also undergo a medical evaluation from a physician approved by their employer's workers' compensation insurance carrier. This physician reviews their injuries and assigns the claimant a disability rating that reflects the overall severity of their injury and any long-term complications they are likely to experience because of it.
The injured worker submits their claim forms and the medical report from the workers' compensation physician to the insurance carrier, and then the insurance carrier investigates the claim to determine whether it is legitimate and that the claimed injury is covered under the terms of the policy. This review process should only take a few weeks. Arizona law dictates that the insurance company has 21 days in which to accept or reject a claim.
Benefits Available Through Workers' Compensation Insurance in Tucson
After you submit your claim for workers' compensation benefits and your claim is approved, the insurance carrier will likely issue you two forms of benefits. First, it will pay for any medical care you need to fully recover from your injury. This includes both immediate and future medical care needed to reach maximum medical improvement from your injury. Second, you will receive disability benefits to offset the income you are unable to earn while you recover.
In Arizona, workers' compensation disability benefits are paid monthly. The claimant must be out of work for seven days before they can start receiving these benefits. The amount paid is typically equal to about two-thirds of the claimant's average weekly wage. These benefits will continue until the claimant is able to return to work.
If an injured worker can still work, but they cannot earn as much income due to their injury, they may qualify for partial disability benefits. The claimant will need to report their earnings to the insurance company, and the insurance company will pay an appropriate amount to offset their diminished earning power. If the claimant fails to meet their reporting requirements or attempts to continue collecting benefits after recovery, they can face severe legal penalties.
Filing a Third-Party Personal Injury Claim
The workers' compensation laws of the state generally prevent injured workers from filing personal injury claims against their employers, but it is possible for an injured employee to be able to file a civil claim against a third party. If anyone outside of your work directly caused a work-related injury, you have the right to pursue workers' compensation benefits but would also have grounds to file a personal injury claim against that third party.
A successful third-party personal injury claim can yield compensation for damages that workers' compensation insurance won't cover, specifically the pain and suffering you experienced. You can also recover compensation for the lost wages that workers' compensation won't cover, as these benefits typically only provide a percentage of your average wage until you recover. There is no cap on the amount of pain and suffering compensation a plaintiff can seek for a personal injury under state law. An experienced attorney can help you file your third-party personal injury claim and maximize the compensation you obtain from the defendant.
The Arizona Injury Law Group has years of experience guiding clients in Tucson and surrounding communities through the workers' compensation claim filing process. We take time to learn as much as possible about each client we represent so we can provide fully client-focused legal counsel in every case. If you are unsure how to proceed with your recovery after a workplace injury, a Tucson workers' compensation attorney is the ideal resource to consult. The sooner you connect with our team, the sooner we can start guiding you toward the recovery you legally deserve.
Workers' Comp FAQs
Q: Does My Employer Have to Hold My Job While on Workers' Compensation?
A: Technically, no, your employer is not obligated to hold your job while you are out on workers' compensation. Your employer has the right to hire someone to take over your position, and doing so may be necessary for the company. Under at-will employment law, an employee can be let go at any time for any legal reason. However, an employer cannot fire an employee simply for filing a workers' compensation claim. If you believe a recent firing was unlawful, it's imperative to consult an attorney as soon as possible to discuss your options for legal recourse.
Q: How Much Can I Receive in Workers' Compensation Benefits in Tucson?
A: The average workers' compensation claim in Tucson yields two types of compensation for an injured worker. First is medical expense coverage, which includes any immediate and future medical treatment the injured worker requires to fully heal from their injury. Second is disability benefits, which are usually paid each week to replace the income the claimant cannot earn while they recover. Your Tucson workers' compensation attorney can help you maximize the benefits you receive from your employer's insurance carrier.
Q: Can I Still Claim Workers' Compensation Benefits if I Caused My Injury?
A: Yes, it is still possible to recover workers' compensation benefits for a workplace injury that you caused yourself. However, there are exceptions to this. The injury must have occurred through an honest mistake you made while working in good faith or simple negligence. If you were working under the influence of drugs or alcohol or if you intentionally violated some workplace safety rule, these factors could disqualify you from receiving workers' compensation benefits.
Q: Can I Sue My Employer for a Work-Related Injury?
A: Typically, an injured worker cannot file a civil suit against an employer for a workplace injury if the employer has workers' compensation insurance. However, if the employer does not have insurance, or if a supervisor, coworker, or anyone else in your workplace intentionally caused your injury somehow, these factors could form grounds for a civil suit. It is also possible to be able to file a third-party injury claim if someone outside of your workplace caused your injury.
Q: Do I Need an Attorney to File a Workers' Compensation Claim in Tucson?
A: You can try to handle your workers' compensation claim filing process on your own, as there is no law that requires you to hire legal counsel, but you must acknowledge the risks you would face in doing so. The average person would likely encounter legal obstacles they do not know how to overcome on their own. It's also possible for them to unintentionally settle for a smaller settlement than a good attorney could have secured on their behalf or overlook avenues of additional compensation. Hiring a Tucson workers' compensation attorney can significantly improve the outcome of your claim and likely yield more compensation than you could obtain on your own.
The attorneys at the Arizona Injury Law Group excel at handling complex workers' compensation claims for our clients in Tucson. We routinely help our clients file their workers' compensation claims, resolve disputes with insurance carriers, and explore all their additional avenues of recovery to maximize their compensation. Whatever your work injury case entails, you can rely on our team for guidance and support through all the proceedings that follow your workplace injury. Contact us today to schedule a free case review and learn more about the legal services we provide to injured workers in the Tucson area.