TEMPE, AZ WORKERS' COMPENSATION ATTORNEY
The Arizona workers' compensation system is intended to provide benefits for both employers and employees. Although employers are legally required to purchase workers' compensation insurance, doing so safeguards them against liability if an employee is injured while on the job. For the employee, the benefits offer compensation in the event of a workplace injury or illness, covering the cost of medical care, recovery, and lost wages.
If you've experienced a workplace accident, contact a Tempe workers' compensation attorney right away. A skilled and experienced workers' compensation lawyer in Tempe, AZ can provide comprehensive guidance through the claims process, ensuring that you receive the maximum possible benefits in your case.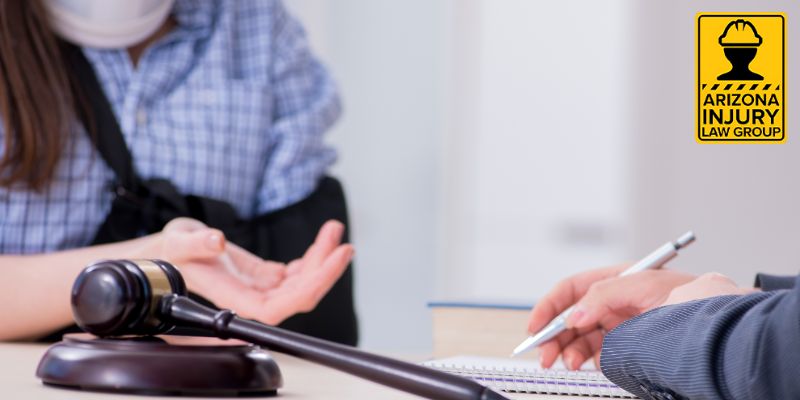 Representation for Tempe Workers' Compensation Claims
The Tempe workers' comp lawyers at the Arizona Injury Law Group have substantial professional resources and experience with handling claims with insurance regarding workers' compensation. Our firm has taken care of workers from a wide range of industries. We understand the complexity of workers' compensation law and know how to structure and word a claim to maximize the benefits decision on your behalf. Although we can work to negotiate a settlement out of court, if it becomes necessary, we can fiercely and tenaciously represent you in court to get you the fullest extent of the compensation that you deserve.
By partnering together and hearing the details of your case, our lawyers can provide complete legal guidance and comprehensive legal counsel. In addition to making a claim with the insurance, it may be possible that another claim can be made against a responsible third party for any negligence on their part that led to your injury or illness. If you've suffered a workplace injury, let a member of our team review your case and advise you on your next steps.
When Do You Need Workers' Compensation?
Workers' compensation is provided to employees when they suffer an injury or acquire an illness as the result of an accident or other cause while performing work-related tasks on the job. When this happens, the employee should seek immediate medical attention, no matter the severity, so they can be properly assessed and treated. The results from the assessment can later be brought as a claim to the insurance.
Some of the most common injuries that occur while on the job include: 
Fall-related injuries. According to the Occupational Safety and Health Administration (OSHA), falls account for most of all reported workplace injuries every year. Additionally, falls are responsible for most missed days and workplace deaths. Falling from a ladder, platform, or on the ground due to wet or unsafe flooring can all lead to serious injuries, including broken bones, strained muscles, and traumatic brain injuries.
Equipment-related injuries. Whether the accident was the fault of malfunctioning equipment, someone else's negligence, or a mistake by the employee, an injury automatically qualifies you for workers' compensation coverage. Heavy equipment injuries can potentially lead to permanent disability.
Vehicle-related injuries. Specialized work vehicles are common in many industries, as is driving as a primary work duty. If you are injured in an accident while driving or riding in a vehicle for work purposes, you are entitled to compensation.
Other work-related conditions. It is common for those who are exposed to the same working conditions to suffer medical issues. These can include work-related illnesses, such as disease, anxiety, or even depression. The medical issues can also be caused by repetitive stress injuries, such as from performing the same movements every day, including typing at a keyboard or stocking a shelf.
If you've experienced any injury or illness, whether serious or non-serious, short-term or long-term, as the result of performing your job duties, you should start a claim with your employer's insurance carrier. This is the most effective means of ensuring a complete recovery, as the benefits can provide the needed resources to do so.
What Are Workers' Compensation Benefits?
Workers' compensation benefits are intended to help a worker reach a full recovery from their injuries. This includes receiving compensation for medical benefits and disability. After approving a workers' compensation claim, you can expect your employer's insurance carrier to cover all medical treatment, past, present, and future, that is related to the workplace injury. This includes hospitalizations, surgeries, physical therapy, medication, and any follow-up care.
Additionally, you can expect to receive compensation for lost wages from being injured. Workplace injuries leave employees unable to work for days, months, years, or even permanently. Disability benefits are intended to cover the earnings lost due to being unable to work, whether temporarily or permanently.
In Arizona, you must wait for a mandatory seven-day waiting period before you can receive benefits. This means that you must be out of work for seven consecutive days before being eligible to be reimbursed for lost work days. After this point, you will receive monthly payments for up to two-thirds of your normal pay.
If you are still able to work, but at a reduced capacity, you may still qualify for disability benefits. In this case, you will need to submit your earnings on a regular basis to stay qualified. Otherwise, you can receive compensation to cover the difference in earnings resulting from your disability that was caused by the workplace injury or accident.
Can I Still Sue for a Workplace Accident?
If you've suffered a workplace injury or illness, and the fault is anyone's but your own or your employer's, you may be entitled to enhance your workers' compensation claim with an additional personal injury claim against the at-fault third party. Many workplace accidents are the result of negligence and are therefore eligible for additional claims. If you have questions regarding your case and whether it warrants an additional civil case, speak with your attorney.
Your employer, under Arizona workers' compensation law, is exempt from liability in most cases and cannot be sued for negligence or other personal injury claims. However, other third parties, such as fellow coworkers and equipment manufacturers, do not enjoy this exemption from liability and can be held legally responsible for their actions.
For example, suppose that a coworker was operating machinery in an unsafe manner or was otherwise acting with negligence in the workplace. That negligence led to the accident that caused your injury. If so, you could hold the coworker legally responsible and pursue a personal injury claim against them. Likewise, if there was a manufacturer defect in a tool or piece of equipment that you used, and that led to the injury, you could hold the manufacturer legally responsible.
Workers Compensation Attorneys FAQs
Q: Does My Employer Have to Hold My Job While on Workers' Comp in Arizona?
A: Your employer cannot legally fire you for filing a workers' comp claim in Arizona. However, neither are they obligated to hold your job for you while you are gone. Depending on the amount of time that you are away from your job while on workers' comp, you may or may not be able to return to your old position when you've recovered. Generally, employers are eager for employees to return, though longer leaves may require replacing vacancies in jobs.
Q: What Percentage Does a Workers' Comp Attorney Get in Arizona?
A: Workers' comp attorneys in Arizona will usually charge clients a contingency fee, typically 25% of the settlement, if they are able to successfully settle a case. Workers' comp lawyers also tend to offer an initial consultation to workers who are looking to get more information on pursuing a claim. Hiring a skilled accident attorney is vital to ensuring that you get the most out of your claim, and an experienced attorney can work diligently to achieve the most favorable settlement outcome.
Q: How Much Does Workers' Comp Pay in Arizona?
A: In Arizona, injured workers are entitled to receive up to two-thirds of their established monthly wage up to a maximum amount of $5,393.37. To calculate the established monthly wage, the worker's earnings from the 30 days prior to the injury are generally taken and then multiplied by 66⅔%. The exact amount in each case will also vary depending on other factors, such as medical bills accrued for the injury.
Q: What Is the Waiting Period for Workers' Compensation in Arizona?
A: Arizona has a seven-day mandatory waiting period for receiving workers' compensation benefits. Before you can receive settlement payments, you must be out of work for at least seven consecutive days. There is only one waiting period necessary during the claim. After that, compensation is payable every 14 to 30 days.
Speak With a Qualified Tempe Workers' Compensation Attorney Today
A skilled workers' compensation attorney is vital to securing the maximum amount of benefits from a workers' comp claim. Should your case require pursuing an additional claim on another third party, your attorney would already be poised to provide the appropriate legal guidance and representation. In either case, don't hesitate to begin working with a workers' compensation attorney right away. If you've been injured or experienced illness on account of a workplace accident or other cause, let a member of our team at the Arizona Injury Law Group walk you through each of the next steps. For a consultation, contact our office immediately.