ARIZONA PERSONAL INJURY ATTORNEY
If you are experiencing a personal injury or loss as the result of someone else's negligence, it is essential that you seek the help of a qualified attorney as soon as possible. Recovering from an injury is already extremely demanding to both your body and mental state. Attempting to pursue the often-complex and emotionally draining process of filing a personal injury claim against an at-fault party on your own is an unnecessary burden that no one should place upon themselves.
By partnering with a qualified and experienced Arizona personal injury lawyer, you allow yourself an optimal opportunity for a full recovery – both recovery for your health and recovery for all damages suffered.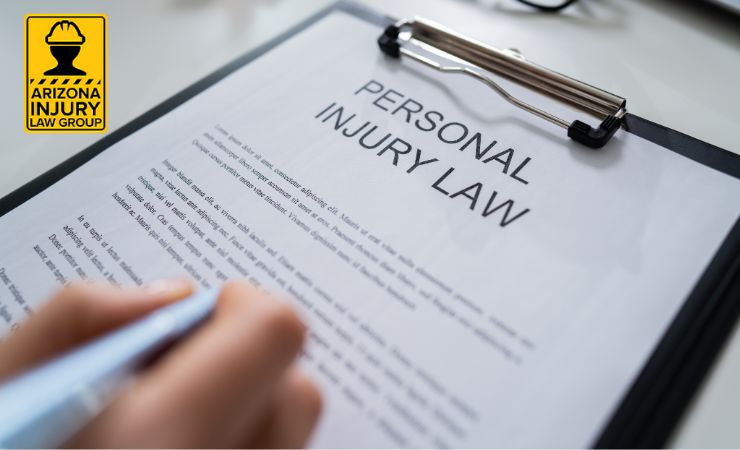 Table of Contents:
Arizona Injury Law Group: Top Personal Injury Lawyers in Arizona
The attorneys at Arizona Injury Law Group believe in educating all their clients as they guide them through the entire claims process. Starting with a consultation, a member of our team can review the details of your case with you, helping you understand what to expect at every stage of the process. Our lawyers are committed to offering direct communication with their clients from the beginning to the end. This allows you the freedom to have any of your questions answered while trusting us to take care of handling your case, leaving you to concentrate your energy on recovery.
Our attorneys have decades of experience navigating the tedious and challenging process of filing personal injury claims. Their knowledge of Arizona personal injury law means they are able to fight for every bit of compensation that you deserve. We have helped countless other clients throughout the state secure the most favorable outcome across a wide range of cases. Reach out for your consultation today to begin your full and true recovery.
Personal Injury Law
Arizona law protects individuals from damages and loss, such as personal injury or property damage. When someone's wrongful or negligent act leads to an injury, for instance, the person suffering the injury has a legal right to take action against the alleged offending party to receive compensation to recover damages.
Types of Personal Injury Claims
For individuals throughout Arizona, several situations could potentially arise that would call for filing a claim against a person, business, organization, or other legal entity. Some of the most common cases involving personal injury include:
Auto accidents. Car accidents are the most common incidents that lead to personal injury claims. As with other personal injury claims, once fault has been determined in a case, the party at fault presumes financial responsibility for all damages incurred as a result. This means that an at-fault driver would be responsible to pay all medical bills, repair costs, and lost wages for the victim that would arise on account of the accident.
Motorcycle collisions. Accidents involving motorcycles work in much the same way as other auto accident personal injury claims. However, the nature of these accidents means that the injuries sustained are usually more serious. Additionally, there are unique traffic laws pertaining to motorcyclists that aren't applicable in standard auto accident claims.
Slip-and-fall accidents. Slips-and-falls typically happen due to wet or uneven surfaces. Negligence occurs when there is no proper signage to alert pedestrians, for example. Such cases often intersect with premises liability, as improperly cleaned or maintained property can cause damages for which the property owner can be held liable. These types of accidents are quite common and can lead to serious injuries. Additionally, they are a good example of personal injury cases in which the at-fault party is not usually an individual but rather an organization, such as a business or a city.
Dog bites. Arizona has a strict liability law for dog bites. In incidents where an individual is bitten by a dog, except in cases where that individual may have been trespassing on private property, the owner of the animal is held completely liable for all damages, including medical bills. Negligence does not need to be present or proven in personal injury claims involving dog bites for fault to be determined.
Medical negligence cases. Also known as medical malpractice, medical negligence occurs when a medical professional, such as a doctor, nurse, or hospital staff, fails to provide the expected standard of care that would have been reasonably provided by another member of the medical professional community. That negligence then directly leads to a personal injury to the one for whom the care was being provided.
Construction accidents. Phoenix has long been one of the fastest-growing cities in the nation, and the city is consistently undergoing new construction projects to meet the needs of new residents and businesses. With the high number of construction work done throughout Arizona, there is a commensurate number of accidents throughout the state as well. Given the wide range of tools, equipment, and working environments present throughout these sites, there is an increased risk for injuries to arise.
Wrongful death. It is unfortunate when accidents occur that could have otherwise been avoided, but it is tragic when an avoidable accident leads to someone's death. In wrongful death cases, a surviving family member files a claim against the at-fault party for the same damages that the decedent could have filed for, had they survived.
Undocumented worker injury. Any undocumented worker, regardless of their legal status, who is injured while working on the job is equally entitled to the same rights as anyone else. This means that they are equally eligible for workers' compensation and that they could file a personal injury case against a responsible negligent party.
Experiencing any of these or other personal injuries or losses as the result of another party's negligence entitles you to fair and just compensation and recovery. Partner with your personal injury attorney to explore the various options available for pursuing appropriate damages. They can guide you through each step of the process. They can also gather evidence and testimony to build and support your case, helping you thoroughly establish fault and maximizing the potential compensation you could receive.
How to Determine Fault in a Personal Injury Claim
Arizona personal injury law assigns liability to the party at fault in cases of injury or loss. This means that establishing fault is essential for recovering compensation. To prove fault in a given case, three factors must be demonstrated:
Duty of care. Personal injury law protects individuals against undue harm or loss. This means that the law expects individuals, organizations, and businesses to provide an appropriate duty of care to all those for whom it is owed. This encompasses all legal obligations to act with a reasonable level of attention and prudence to ensure that health and safety are upheld. Establishing fault requires you to demonstrate that the defendant in your case owed you a duty of care.
Breaching the duty of care. In addition to owing a duty of care, you must additionally prove that the offending party did not fulfill said duty. Once a party has violated their responsibility to ensure the safety and health of those in their care, legal action can be taken against the at-fault individual or entity.
Personal injury. Lastly, for a successful personal injury claim, you must demonstrate that any or all personal injuries directly resulted from the breach of duty of care.
Once you and your attorney have established these parameters, negotiations for a settlement can begin. Your personal injury lawyer can guide you through the process of gathering all the corresponding evidence for substantiating each aspect of your case.
Advantages of Hiring a Personal Injury Attorney for Your Case
Filing a personal injury claim can be a complex and challenging process that requires tedious compliance in preparing a variety of necessary documentation. Mistakes or oversights in completing these steps could have significant cost repercussions that affect your final settlement amounts. For this reason, take advantage of the extensive knowledge and experience offered by a qualified and skilled attorney who is fluent in complying with all applicable laws.
Using their knowledge and skill, your injury lawyer can provide several unique advantages:
Establishing fault. Knowing what is required to definitively demonstrate fault in a case, your injury attorney can employ their experience in investigation, interviewing, and including all necessary evidence to prove fault.
Appraising total damages. Most individuals will not have a baseline understanding of how much their claim is worth and will most often accept extremely low offers. An experienced attorney knows how to estimate and calculate your claim accurately by considering all factors and potential justifications for each type of recovery compensation.
Representing you. There are many parties with whom you will need to interact and negotiate throughout the claims process. Your attorney understands how to handle each conversation effectively. Let them talk to insurance agents, judges, and opposing lawyers for you. If your claim goes to trial, you can trust that your attorney can continue to represent you effectively in court.
The most crucial step to ensuring a favorable outcome in your settlement is hiring a qualified and skilled personal injury attorney who can guide you through the process, gather the required materials and documentation and protect your rights.
FAQs About Arizona Personal Injury Laws
How Long Does It Take to Get a Compensation Payout?
In a personal injury case, the compensation process will go through several remaining steps, following an agreed settlement amount. Depending on the type of case you have filed, it may take quite a bit of time after your case before you receive your payout. For example, a claim filed with an insurance company can take about a month to receive payment, while a workers' compensation claim can take between one and one-and-a-half years before you receive a compensation payout.
Can You Sue Someone for Emotional Damage in Arizona?
Yes. Arizona personal injury law recognizes personal injury as encompassing any physical, mental, or emotional suffering. This means that you can sue an offending party for emotional distress arising from any wrongful or negligent act as long as you can prove that:
The distress was directly caused by the alleged action.
The emotional distress you are experiencing, such as PTSD, is more than another person would be reasonably expected to handle on their own.
How Much Are Most Personal Injury Settlements?
Settlement amounts for personal injury claims will vary widely depending on the specific details of your case. Most cases settle for an amount between $5,000 and $80,000. Some claims can settle for even higher amounts if the injury is severe or if it caused permanent disability. To get a better idea of how much your case is potentially worth, speak with a qualified and experienced attorney who can review the particulars of your situation.
How Are Pain and Suffering Compensation Calculated?
Generally, valuing the worth of your personal injury claim involves evaluating what it would take to return you, as close as possible, to the state that you were in before the incident. However, it is difficult to estimate the value of pain. Many calculations will be based on precedent, comparing similar cases, but the details of your case will be considered. On average, pain and suffering can add up to between 50% to 80% of your claim's total worth.
Speak With Your Arizona Personal Injury Attorney Team Today
If you've suffered a personal injury or loss due to someone's negligence, let one of our skilled lawyers at Arizona Injury Law Group handle all the details of your case. We provide comprehensive representation to clients throughout the entire state of Arizona. You might live in Phoenix proper, on the west side of town in Glendale, Peoria, Avondale, Surprise, or Buckeye. Perhaps you live east of the Valley in Scottsdale, Tempe, Chandler, San Tan Valley, or Mesa. No matter where you are in Arizona, we can help you with your claim. We also service those in Flagstaff, Yuma, and Tucson.
Reach out to a member of our team today, and allow one of our skilled attorneys to take care of your claim, letting you focus on taking care of your health and recovery.