PEORIA WORKERS' COMPENSATION ATTORNEY
The workers' compensation system exists to provide a financial lifeline to individuals who suffer injuries while working, covering their medical expenses and providing ongoing benefits while they are unable to work. Workers' compensation insurance is required for almost every employer in Arizona, and while this insurance serves to provide compensation to injured workers, it also protects employers, keeping them immune from liability for their injured employees' damages.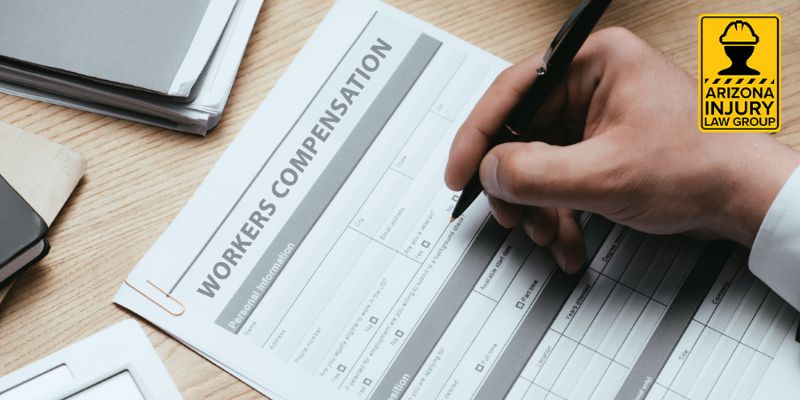 Reliable Legal Counsel for Workers' Compensation Cases in Peoria, AZ
The workers' compensation claim filing process may seem straightforward at first, but many injured workers in the Peoria area encounter unexpected problems with their claims. While the process is similar to the process of filing most other types of insurance claims, the injured claimant faces an additional layer of complexity due to their employer's involvement in the claim filing process. It's possible for an injured worker to file a claim for benefits in good faith only for their employer to retaliate against them, interfere with the claim in some way, or for their insurance carrier to push back against the claim somehow.
The Peoria workers' compensation attorneys at the Arizona Injury Law Group have the experience and professional resources you need on your side to approach the workers' compensation claim filing process with confidence. Our firm has helped many injured workers from all industries navigate the workers' compensation system in the state and recover the benefits they need to recover, and we can apply this experience to your claim.
How to File Your Workers' Compensation Claim in Peoria
After suffering an injury at work, the victim must report the injury to their supervisor right away. Employers in the state are required to document all workers' injuries in formal incident reports detailing how, when, where, and why these incidents occur. They are also required to provide their employees with forms for filing their claims for benefits.
As part of the initial claim filing process, an injured worker should expect to see a physician their employer's insurance carrier designates for a medical examination. This workers' compensation doctor assigns the injured claimant a disability rating that will influence their determination of benefits. An injured worker may see any doctor in an emergency, but this medical review is a required step for most workers' compensation claims.
Once you have completed the medical review, you can submit your claim to your employer's insurance company. After they review your claim, they will deliver their determination of benefits, explaining the types of compensation you are eligible to receive. This process may seem straightforward, but it is advisable to have a Peoria workers' compensation attorney assist you with filing your claim. They can ensure that your employer and their insurance carrier process the claim in good faith, and if any issues arise, you will be prepared to address them accordingly.
Workers' Compensation Benefits in Peoria
If your claim for workers' compensation benefits is approved, you will receive a benefits determination from your employer's insurance carrier that outlines the amount of benefits you are eligible to receive. Generally, the insurance company pays for all medical treatment you need to fully recover from your injury. This includes both immediate and future care if you suffered a severe injury that requires extensive rehabilitative treatments. You will also receive disability benefits based on your disability rating assigned by the workers' compensation physician.
Disability benefits in the state are paid monthly in two possible formats. If the injured worker can still work while they recover, but they are unable to earn the same amount of income as they did before their injury, they can receive partial disability benefits that help make up the difference in their earning capacity. A claimant who qualifies for partial disability benefits will need to report their earnings to the insurance carrier to maintain their eligibility.
If the claimant cannot work at all during their recovery, they can receive total disability benefits. These benefits typically amount to about two-thirds of the claimant's average wage and will continue until they can go back to work. Unlike other states that limit workers' compensation disability benefits to a set number of months, state law allows these payments to continue until the claimant is medically fit to return to work at a physician's discretion.
Enhancing Your Recovery From Your Work Injury
Depending on how your injury occurred, you could have grounds to pursue a personal injury claim against the party responsible for causing your injury. While you typically cannot sue your employer, if a third party caused the injury in question, you could file your claim for workers' compensation benefits and then file a third-party claim against whoever caused your injury. Success with this third-party personal injury claim could yield compensation for damages that workers' compensation insurance won't cover, such as your pain and suffering.
Ultimately, you may have grounds to seek more compensation than you initially expected. Hiring an experienced Peoria workers' compensation attorney is the optimal method of enhancing your recovery as much as state law allows, and the sooner you connect with an attorney, the more time they will have to work on your case. The Arizona Injury Law Group is ready to leverage our professional resources and experience on your behalf as you recover from your workplace injury in Peoria. We can answer your questions at the outset of the claim process, help you file your claim with confidence, and ultimately assist you with all the legal proceedings ahead of you as you seek compensation for your injury.
FAQs About Peoria, AZ Workers Compensation Laws
How Long Will My Workers' Compensation Claim Take to Complete in Peoria?
Arizona law requires an insurance company to deliver a decision on a workers' compensation claim within 21 days. This means the insurance carrier has three weeks to reject or approve your claim. It is generally ideal to file your workers' compensation claim as soon as possible after your injury. Any delay could cause the insurance carrier to doubt the truth of the matter, or they may think that because you did not file your claim immediately, your injury cannot be as serious as you claim.
How Much Can I Receive in Workers' Compensation Benefits in Peoria?
An average workers' compensation claim yields two forms of benefits to the claimant: medical expense coverage and disability benefits to compensate for their lost income during recovery. Medical expenses are straightforward; the insurance carrier pays for any medical care the claimant needs to fully recover. Disability benefits are more variable and may be paid on a partial basis if the claimant can still work but cannot earn as much income due to their injury, or they can be paid on a total basis if the claimant cannot work at all until they recover. Most claimants who receive total disability benefits receive two-thirds of their average monthly wage each month until they can go back to work.
Can I Still File a Workers' Compensation Claim if I Caused My Injury?
Yes, you are still eligible to file a workers' compensation claim if you caused your own injury. However, this is only true if you caused the injury while performing your job duties in good faith. If you intentionally violated workplace safety regulations, engaged in horseplay at work, or were working under the influence of alcohol or drugs, these factors may disqualify you from workers' compensation benefits.
Is Hiring an Attorney Necessary for a Workers' Compensation Claim in Peoria?
Technically, no, you are under no obligation to hire an attorney to help you file a workers' compensation claim. However, legal counsel can make your claim much easier to handle and more likely to generate the results you hope to see. Your Peoria workers' compensation attorney can resolve disputes that your employer and/or their insurance carrier raise with your claim, and they can also help you determine whether you have additional options for legal recourse, such as a third-party personal injury claim. You are most likely to maximize your recovery when you have legal counsel advising you.
How Much Does a Peoria Workers' Compensation Attorney Cost to Hire?
The attorneys at the Arizona Injury Law Group accept work injury claims on a contingency fee basis. This means our client only pays a fee after we secure compensation on their behalf. Your fee is a percentage of the total settlement we secure for your injury, but if we are unsuccessful with your claim for any reason, there is no fee at all. This billing policy enables you to approach your case with peace of mind and ensures your legal expenses do not overtake your recovery.
The Peoria workers' compensation attorneys at the Arizona Injury Law Group are ready to provide responsive, compassionate, and detail-oriented legal counsel to injured workers in the Peoria area. We know you are likely to have many pressing questions in the aftermath of your work-related injury, and we are ready to provide the answers you need to feel more confident in your recovery efforts. If you are ready to learn what a Peoria workers' compensation attorney can do to help you recover from your workplace injury, contact us today to schedule a free case review with our team.