PHOENIX FORKLIFT WORKERS' COMPENSATION ATTORNEY
Forklift operation is an essential part of most warehousing, distribution, and retail operations in Arizona. Certified forklift operators are consistently in demand throughout the Phoenix area, but it's vital to recognize the job-related hazards of this type of work. If you sustain a forklift injury at work, a Phoenix forklift workers' compensation lawyer can help determine your most viable recovery options.
While most forklift operations are done with the right equipment and experience, the ones that aren't can lead to devastating consequences for the injured.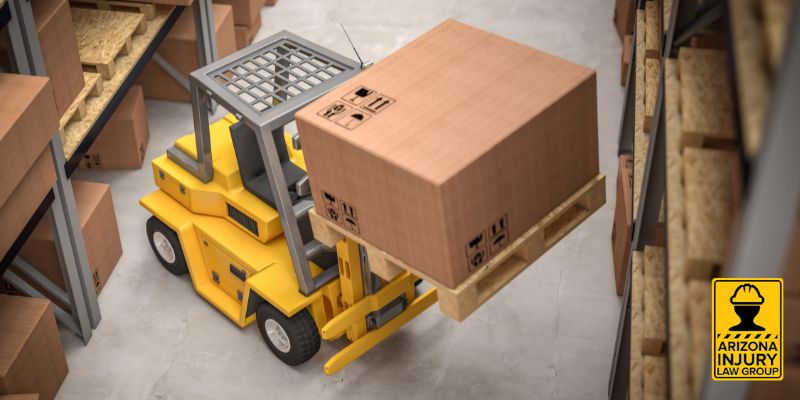 Experienced Legal Counsel for Forklift Injury Claims in Phoenix, AZ
The attorneys at the Arizona Injury Law Group have years of experience helping clients navigate the claim process for workers' compensation after sustaining injuries at work. We know the risks that forklift operators face in their workplaces every day and the many questions they could have in the aftermath of a work-related accident.
Our team has a strong reputation as a leading choice for legal counsel for injured workers across all industries. You have a limited time in which to file a workers' compensation claim after an injury at work, and you could encounter various challenges as you seek the benefits you are rightfully owed. Additionally, you may have grounds for additional legal recourse that you would have likely overlooked if you tried to manage everything alone.
When you choose our team to represent you in a forklift injury case, we will guide you through the claim process for workers' compensation as efficiently as possible. If a specific party is directly responsible for the accident you experienced, we will help determine whether you have grounds for additional legal recourse against them. Our goal for every client we represent in Phoenix is maximum recovery in the shortest possible timeframe.
Filing Your Workers' Compensation Claim for a Forklift Injury
Whenever you sustain any type of injury while working, you need to report the incident to your supervisor immediately. They will be required to create a formal report of the incident, which you will need to refer to later, and they are also required to provide you with the materials needed to file a claim.
Forklift injuries can occur in various ways, from vehicle malfunctions to improperly constructed shelving, wet floors, and the negligence of various parties within a workplace. Whenever any work-related injury occurs, the victim is required to report the injury immediately. Failure to do so could lead to the insurance carrier doubting the truth of your claim.
You will need to undergo a medical evaluation as part of the claim process. Your employer must give you a list of local physicians you can see for a formal evaluation. You can see whatever available doctor you like when you need emergency care, but formal medical evaluation is likely to be essential to your claim process. The workers' compensation physician you see will assign you a rating that reflects your injury's severity.
This disability rating will typically determine the extent of benefits you can expect from the insurance carrier. Once you complete the medical review, your Phoenix workers' compensation attorney can assist you with filing your claim, and they will resolve any issues you might encounter with the insurance carrier as they determine your benefits.
Benefits Available for Victims of Forklift Injuries in Phoenix
The average injured worker can expect two types of compensation from a successful workers' compensation claim. First, the insurance carrier will pay for any medical expenses related to the injury. Your employer's insurance carrier will cover any immediate medical treatment you may need following your forklift accident, and this includes future rehabilitative care if you sustained a serious injury.
Second, the claimant will receive disability benefits that reflect the time they will be unable to work after their accident. If the claimant retains some ability to work but cannot earn the same level of income as they did before their injury, it's possible for them to receive partial disability benefits. These benefits are paid weekly, and the claimant must report to the insurance company how much they are able to earn.
If the claimant is unable to work due to the severity of their injury, they may qualify for total disability benefits. On average, an injured worker who qualifies for total disability benefits receives about 66% of their typical weekly wage with each weekly benefits payment. For example, if they usually earn $1,500 per week, they will receive about $1,000 in each benefits payment. These payments continue until they are able to return to work.
Further Recovery Beyond Workers' Compensation
In some cases, workers' compensation benefits alone cannot fully compensate the victim of a work-related forklift injury. While state law typically prevents an injured worker from filing a civil suit against their employer in response to a work-related injury, there are exceptions to this rule. It is also possible for an injured forklift operator to have grounds for civil action against a third party responsible for their injury.
If you have grounds to file a third-party personal injury claim, this can potentially result in compensation for damages that workers' compensation insurance can't pay. For example, you may receive full coverage of your medical benefits through workers' compensation but only a portion of your lost income. Additionally, workers' compensation insurance will not provide any financial compensation for your pain and suffering.
Your Phoenix workers' compensation attorney can help determine whether you have grounds for a third-party personal injury suit against whoever caused your accident. This could be a manufacturer who released a defective forklift or vehicle part, a vendor, distributor, or other third party's employee who directly caused the accident, or another third party. An experienced Phoenix workers' compensation attorney can assist you in proving fault in this situation.
When you choose the Arizona Injury Law Group to represent your case, you will have a responsive legal advocate ready to address your concerns and answer any questions you might have about the workers' compensation claim process. Our team believes in client-focused legal counsel in every case we accept and will develop a unique strategy tailored to your individual situation.
FAQs About Forklift Injuries
Q: Does My Employer Have to Hold My Job While on Workers' Compensation?
A: Technically, no, your employer is not obligated to hold your job open for you until you recover. Most employers will arrange for temporary replacements in these situations but this is not required or guaranteed. Your employer cannot, however, fire you simply for filing a workers' compensation claim, which is a legally protected action. You could have grounds for a retaliation suit if they fired you after you reported your work-related injury.
Q: How Do I Know if My Injury Qualifies for Workers' Compensation Benefits?
A: As long as you are a covered employee and your injury occurred while you were performing work-related duties, you are likely covered by your employer's workers' compensation policy. It's possible to file a claim for an injury you caused yourself as long as it happened from an honest mistake made while you were working in good faith. If you have questions about eligibility, you should consult a Phoenix workers' compensation attorney right away.
Q: What Is the Statute of Limitations on Workers' Compensation?
A: The statute of limitations or time limit in which you must file your workers' compensation claim is one year from the date your injury occurred. Failure to file a claim within this time limit could mean losing your ability to claim compensation for your injury. While the one-year window may seem generous, the reality is that you have the greatest chance of success when you file your claim as soon as possible after your injury.
Q: How Much Compensation Can I Claim for a Forklift Injury?
A: Workers' compensation can potentially cover all your medical expenses following a workplace injury, including the cost of future rehabilitative care you may need to fully recover. You will also receive disability benefits that reflect your inability to work and your missing income, and these may be paid on a partial or total basis, depending on the severity of your condition. The total value of your claim depends on your injury's severity.
Q: What Does a Phoenix Workers' Compensation Attorney Cost to Hire?
A: The attorneys at the Arizona Injury Law Group do not charge upfront or ongoing attorneys' fees to our clients in workers' compensation cases. Instead, we take these claims on a contingency fee basis, taking a fee only once we win our client's case. Our contingency fee is a portion of the total recovered for the client, and there is no fee if we are unable to secure compensation.
Skilled Phoenix Forklift Workers' Compensation Attorney
The Arizona Injury Law Group is prepared to provide the comprehensive legal counsel you need in the aftermath of a forklift accident at work. We know how damaging these incidents can be, and you likely have many pressing questions about your options for recovery. Contact us today to set up a free case review with a Phoenix workers' compensation attorney and learn how we can assist with your recovery.