PHOENIX LANDSCAPING WORKERS' COMP ATTORNEY
Landscaping workers have a high potential for injury on the job in Pheonix, AZ. Not only do they use power tools, mowers, and tree trimmers, which can be harmful, but they can also be exposed to pesticides and herbicides. Over time, this can cause developmental illnesses or conditions. These tools and chemicals make jobs easier for landscaping employees, but they can also cause injuries. Employees who are injured while performing their job duties in Phoenix, Arizona are entitled to workers' compensation.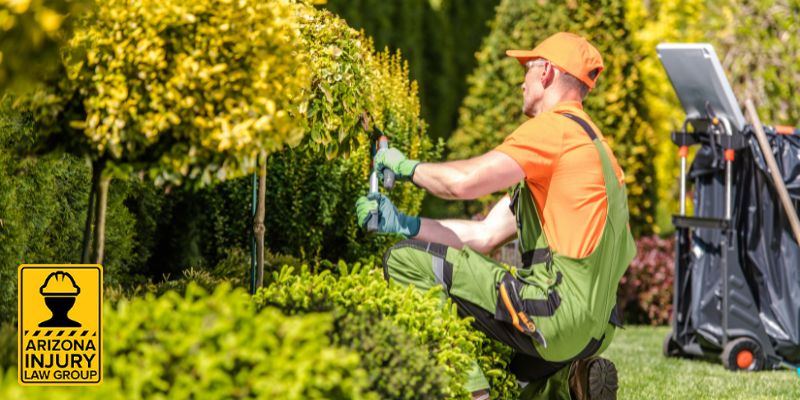 Arizona Injury Law Group: Your Phoenix Landscaping Workers' Compensation Lawyers
If you've been injured while working as a landscaping employee, it's useful to enlist the help of a workers' compensation attorney. This can make the legal process of filing less overwhelming, and ensure your rights are protected by professionals who understand workers' rights. Arizona Injury Law Group has the experience to help you navigate your Phoenix workers' compensation claim. We can help you file the claim, negotiate with your employer's insurance provider to maximize your compensation, and appeal denial decisions.
What Is Workers' Compensation in Phoenix?
In Arizona, benefits for injured workers are governed by the Industrial Commission of Arizona (ICA). All employers, if they employ one or more employees, are required to have workers' compensation insurance coverage. This protects employees by providing them financial support when they are injured or develop a condition on the job. It also protects employers from direct legal action by employees.
Employees who work at private companies, government agencies, and other agencies are all covered by workers' compensation. Both part-time and full-time employees are covered. Employees such as domestic workers and independent contractors are not covered under workers' compensation.
Landscapers Workers' Compensation
Landscaping employee is a broad term that describes several types of jobs, such as:
Grounds maintenance workers
Groundskeeping
Landscapers
Tree trimmers and pruners
Pesticide handlers and applicators
Greenskeepers
If you are considered an independent contractor landscaper, you will have to find other ways to get the compensation you deserve.
Workers who are employed by a company are protected by workers' compensation. Undocumented workers also receive protection under workers' compensation. If you need help filing for workers' compensation discreetly or are not being offered a fair settlement for your claim, you want to work with an attorney.
Why Do I Need a Landscaping Workers' Compensation Attorney?
Being injured while on the job is both painful and frustrating. In addition to medical treatment and bills, you're also not making income. It's often exhausting to deal with legal regulations, meet deadlines, and gather evidence in support of your claim while you're recovering. If your condition is a developmental condition, significantly more work is needed to prove the injury was caused by your job duties. Working with an attorney can make this easier on you.
Many injured employees are unaware of the benefits available to them and will accept a settlement offer from the insurance provider that is much lower than they deserve. A workers' compensation attorney will be able to calculate your current medical costs, lost income, and the potential for future medical complications from your injury or illness. They can negotiate on your behalf with your employer's insurance provider, allowing you the necessary time to recover.
Common Landscaping Injuries
Landscaping employees work with dangerous equipment and chemicals, drive between job locations, and work outside in varying weather conditions. This increases their risk for injuries and illnesses. Causes of injuries include:
Falling from a tree, ladder, or another piece of equipment
Slips and falls
Being hit by a falling object, such as equipment or tree branches
Malfunctioning equipment like riding mowers or electric clippers
Car accidents while traveling between landscaping jobs
Repetitive motion injuries from lifting
Overexertion, heat stroke, heat exhaustion, heat rash, and other heat illnesses from working outside in hot weather
Electrocution from digging or tree trimming near electrical and power lines
Frostbite, trench foot, hypothermia, and other cold illnesses from working in cold weather, though this is less common in Arizona
Noise exposure or tinnitus from loud power tools
Illnesses from exposure to chemicals
Common injuries that result from landscaping include:
Neck and back injuries
Spinal cord injuries
Broken or fractured bones
Head or brain trauma
Burns and lacerations
Strains and sprains
Cuts or punctures
Bruises and soreness
FAQs About Landscaper Injuries Laws
How Much Do You Get From Workers' Comp in Arizona?
You receive a certain percentage of your average monthly wages while on temporary disability benefits. These benefits are ⅔ the difference between the employee's wage prior to the injury and their current wage. It's important that the ICA has your correct average monthly wage. Injuries sustained on or after January 1, 2023, have a maximum monthly wage set at $5,393.37. The cap in 2022 was $5,161.12.
How Long Can You Be on Workers' Comp in AZ?
Permanent disability benefits in Arizona may last up to the rest of a person's life. Temporary disability benefits last until an employee can start work again. Temporary benefits can last for a maximum of 260 weeks, or five years. If you are still unable to work after that time, you may want to consider filing for permanent disability benefits.
What Are the Workers' Comp Laws in Arizona?
All Arizona employers are required to carry workers' compensation insurance if they employ one or more workers. This is no-fault compensation that an employee can receive no matter who was at fault for their injury. An employee who was injured while performing work duties has the right to claim compensation for their medical bills, lost income, and certain other damages.
Who Oversees Workers' Compensation in Arizona?
The Industrial Commission of Arizona (ICA) governs, administers, and enforces employee laws. This includes:
Workers' compensation
Wage disputes and payment
Child labor laws
Minimum wage
Discrimination and whistleblower complaints
Vocational rehabilitation
Occupational safety and health law
Self-insured employers
Insolvent insurance carriers
ICA laws focus on the protection of Arizona employees.
Representation From Arizona Injury Law Group
If you are injured as a landscaping worker, you need to protect your employee rights. At Arizona Injury Law Group, we want to advocate for your interests and maximize the compensation you receive for injuries, damages, and lost income. Contact us today with your workers' compensation claim.