WHAT IS THE AVERAGE MONTHLY WAGE STATUTORY MAXIMUM FOR 2022?
If you are severely injured while working on the job and depending on your current salary along with the financial determination of your injuries, you could receive up to $5,161.12 per month in 2022. This rate goes into effect on January 1, 2022, and ends on December 31, 2022. The typical amount you receive is about two-thirds of your salary or 66 percent before other calculations.
Each year, the Industrial Commission of Arizona (ICA) bases an increase for the next year, as dictated by Arizona Revised Statutes Title 23. Labor § 23-1041(E). According to Section E, the change is based on the Bureau of Labor Statistics Employment Cost Index for the prior year and cannot be decreased nor can it rise more than five percent. All rate increases must be adopted by August 1st of each year for the increase to go into effect for the next year, according to the ICA website.
EXPLAINING THE INCREASES
Since 2010, starting with $3,763.44 as the monthly maximum wage amount, the highest percentage increases were shown for 2011 and 2012 at 4.2 percent and 3.6 percent, respectively. In 2020, the percentage rate (approved pre-pandemic in 2019) went up to 3.1, with the monthly payment at $4,888.56, but the increases are reduced slightly in 2021, and again in 2022.
Until the economy can pick up again, the annual increases may be lower than what we have seen in this past decade. As workers contend with workplace vaccine mandates (for and against), there may be many who cannot (or will not) return to work until the pandemic has finally run its course. This may slow down economic recovery and the ability to raise annual rates again.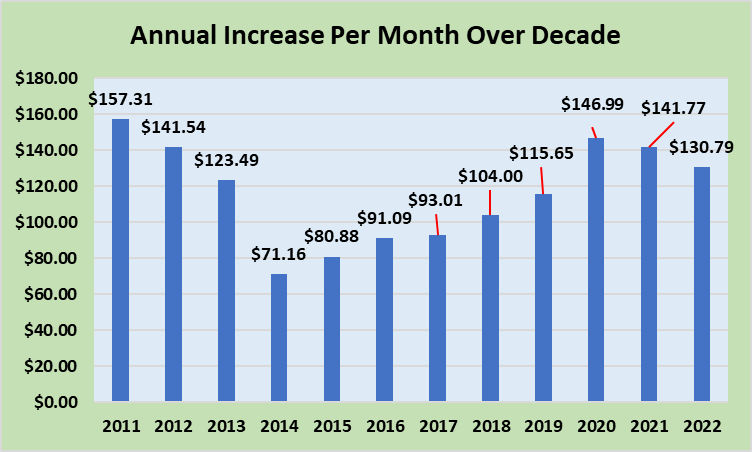 Average Monthly Maximum Wage and Percentage by Year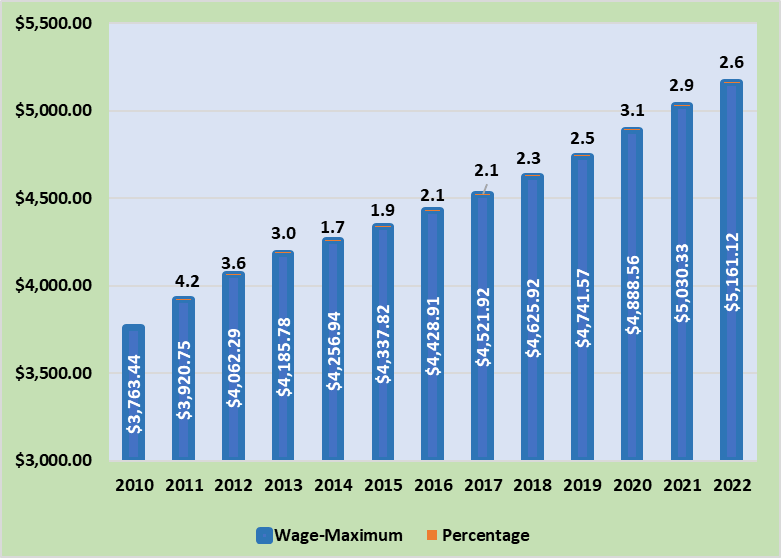 Source from ICA: https://www.azica.gov/claims-amw-statutory-maximum-information-page
FILING YOUR CLAIM AS SOON AS YOU ARE INJURED
Whenever you are injured on the job, you should file as quickly as possible. The first reason for doing so is to make sure your claim will be addressed as soon as possible as getting an answer back may be slower than normal. Luckily, the ICA Online Self Service Portal web page allows you to download your form, fill it out, and then submit it.
The second reason is if you were hurt on the job while on the road (truck drivers, delivery personnel, picking up something for your boss), as time goes by, you may forget certain details of your accident which would get your claim approved right away. If you were injured while running errands for your boss, then your boss would remember the details better than if you waited several weeks or months to file your claim. Call an Arizona workers' compensation attorney to get help with your claim and answer any questions you have about your circumstances.
GET HELP QUICKLY SO YOU KNOW WHAT TO EXPECT
Arizona Injury Law Group offers experienced and Certified workers' compensation lawyers and legal services for injured workers. We stay up to date on all the latest news and changes related to Arizona's workers' compensation laws. Call for your free consultation here! (480) 535-3482.